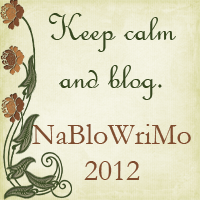 In a shameless riff on National Novel Writing Month, October is now National Blog Writing Month. Since I've been so derelict in my blogging, when I saw this blog-fest, I just knew it was time to start writing again. And with the daily prompts, I don't even have to dig too deep into my tortured psyche for profound and relevant topics.
Today, the first day of the month, is getting-to-know-you day. Therefore, here are
10 Things I Never Told You
1.

I bought a Hermes handbag at Goodwill for $12.

It might be real but even the knockoffs go for $500.

I liked it because it's purple but it has ruined me now for cheap bags.
2.

I was asked to leave a McDonald's in Budapest for taking photographs of the Cyrillic menu board.
3.

I have lived less than an afternoon's drive from the Mexican border for seventeen years in four different states but I've never been to Mexico.
4.

I have brown eyes; my husband has grey/hazel eyes.

One daughter is green-eyed and the other is blue-eyed.

Go figure the Punnett Square for those genetics!
5.

I wanted to grow up to be a preacher, a doctor, a writer, or an opera singer.
6.

I read over 100,000 pages in real books, plus countless websites and e-documents, between summer 2009 and summer 2010 when my hysterical illness was in remission.
7.

I once dieted and exercised my way down to 19% percent body fat.

Men followed me down the street. I used to almost pass out on the commuter train on a near daily basis.
8.

I lied on my statement of faith so I could go on a mission trip. Even then, I almost didn't get accepted because my supervisor on the previous trip wrote me such a bad recommendation because I had a "bad attitude".
9.

I have curly toenails that frustrate my nail techs no end.

They grow every which way but straight.
10.

I was raped but repressed the memories for decades.